Senior Engineer
At the CPE Office
Responsibilities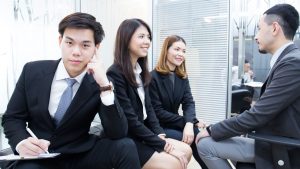 Prepare material take-off, bill of quantities (BOQ) and cost estimates, quality control.
Make a purchasing plan for project's equipment and supplies.
Develop and proceed the project and finalize before submit to the clients.
Other works depending on the need of manager and clients.
Requirements
Male 24 – 32 years.
Bachelor/Master Degree in : Mechanical Engineering / Industrial Engineering.
Have an Engineering License.
At least 1 -3 years experiences in fabrication job, installation jobs (Machines, structure, system, etc.), quality control and planning job, especially in quotation and BOQ tasks, in project site management.
Familiar with AutoCAD software and Microsoft office.
Leadership and presentation skills with being able to work under high pressure.
Have a working experience Supervisor on Site in Thailand or Foreign Country.
Able to communicate in English.
Have a Driving License more than 3 years.
Conditions
Work location – Bangkok, Thailand
Full-time employment.
Competitive package of salary, benefits and annual bonus scheme.